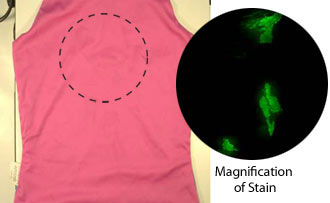 Forensic Laboratory Use
Product

Catalog #

ABAcard® p30 for the Forensic Identification of Semen (25 test/kit)



308332

ABAcard® p30 for the Forensic/Crime Identification of Semen (25 test/kit)
* Same as 308332 but also contains 25 prefilled vials with extraction buffer and 25 swabs. All items are individually packed for individual use.


404334
Crime Scene Use
Product
Catalog #

ABAcard® p30 for the Forensic/Crime Identification of Semen (25 test/kit)
* Same as item # 308332 but in addition to 25 test cards it also contains 25 prefilled vials with extraction buffer and 25 swabs. All items are individually packed for individual use.


404334

ABAcard® p30 for the Crime Scene Identification of Semen (10 test/kit)

New: Almost like 10 seperate units of item # 404334

488099

ABAcard® p30 for the Crime Scene Identification of Semen (1 test/kit)

433212

Each kit contains individually wrapped tests.
Store at room temperature.
10-minute test.
Normally the kit has a shelf life of 20 months or more at room temperature.
A step-by-step instruction sheet is included with each kit.
Catalog No. 308332 is designed to be used in Forensic Laboratory setting. Catalog No. 404334 is designed to be used in Forensic & Crime Laboratory setting and comes with 25 pre filled vials of extraction buffer and 25 swabs.
Catalog No. 404334, 433212 and 488099 is designed to be used in a Crime Scene setting i.e. it has additional accessories such as extraction buffer vial & swabs.


Help me decide which Catalog # is appropriate for me.
Free shipping. Click here for details
ABAcard® p30 is the method of choice. Why?

Forensic Lab Version: Watch a video on the ABAcard® p30 under Presidents DNA Initiative
Source: National Institute of Justice, U.S. Department of Justice, President's DNA Initiative Video
Request More Product Information
Reference Publications
Benton, K.A., Donahue, J.A., Valadez, Jr. , M. Analysis of the ABAcard® p30 Test for use in the forensic laboratory.
Kuester, J., Rothenberg, D., Schwartz, E., Eustace, M., Adamo, R. Validation of a commercial p30 kit (ABAcard®) for forensic identification of semen.
Carradine, C.C. Evaluation of ABAcard® p30 test for the identification of Semen
Kristaly, A., Smith, D.A.S. Validation of ABAcard® p30 test for the rapid forensic identification of Semen.
Silenieks, E., Pearman, C., Atkinson, C. The Use of the ABAcard® p30 Test for the Detection of p30 (PSA) in Seminal Stains and Swabs.
Sattler, E. A Timeline of Seminal Fluid Markers within the Arid Zone. Northern Territory Police, Crime Scene Examination Unit.
Marvez-Valls, E., Travis, D., Savadore, T., Haydel, M. ABAcard p30 Test for the Identification of Semen in Sexual Assault Victims
Hobbs, M, Steiner, M., Rich, K, Gallo, M. Vaginal swab specimen processing methods influence performance of rapid semen detection tests (ABAcard® p30 Vs. Semenogelin)
Biomarker Validation of Recent Unprotected Sexual Intercourse in Prospective Study of Young Women Engaged in Sex Work in Phnom Penh, Cambodia
Chang. M. A Comparison of Rapid Stain Identification Test for Semen (RSID ™ – Semen), Seratec ® PSA Semiquant, and ABAcard ® p30 Tests for the Forensic Identification of Seminal Fluid

Brett Griffin. Detective Leading Senior Constable, Forensic Investigator

. The feasibility of using ABAcard® p30 Test Kits at a crime scene where it is alleged a sexual assault took place.
Emily S. Boward, Stacey L. Wilson. A Comparison of ABAcard® p30 and RSID Semen Test Kits For The Forensic Semen Identification.

J Forensic Leg Med

.